Man killed himself after Southampton 'paedophile sting'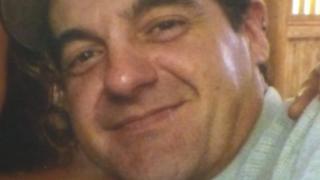 A man killed himself three days after being confronted by a "paedophile hunter" group, an inquest has heard.
David Baker, 43, was arrested after the Southampton Trap group, which posts footage of its "stings" on Facebook, accused him of trying to meet a 14-year-old at a supermarket car park.
He was released while inquiries continued before taking an overdose of prescription drugs in October 2017, Winchester Coroner's Court was told.
A verdict of suicide was recorded.
'Stress'
Mr Baker, a gardener, was found dead at his home in Wickham, Hampshire, on 7 October after being held by police on 4 October on suspicion of arranging to meet a child aged under 16.
His fiancée Kelly Davies told the inquest she found out about the "sting" through friends and posts on Facebook.
She said: "None of us knew anything. We just thought it was someone being sick. We didn't really believe it."
Ms Davies's daughter, Cherelle Stares, told the court her family's address had been posted on social media following the arrest.
"I didn't feel safe as there are idiots out there, and I didn't want a brick being put through the window with my mum and daughter there," she said.
Coroner Grahame Short said: "It's not for me to judge David's actions on 4 October or indeed the actions of Southampton Trap which led to his arrest.
"However I believe in this particular case the postings on social media after his arrest contributed to the stress on David, and to him being alone and isolated in his own home where he made his decision to end his own life.
"This was therefore a causative factor to what led to his death, at least in part."