Cyclist Richard Phillips-Schofield 'vying for position' before crash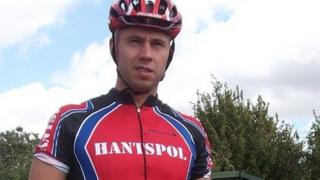 A police officer who died after a velodrome cycle race was vying for position for a sprint finish when he crashed, an inquest has heard.
Richard Phillips-Schofield, 33, was in the last lap of the race at the Mountbatten Centre in Portsmouth when the collision occurred.
He was taken to hospital with severe chest and head injuries and died two days after the crash in March 2014.
His father told the inquest he did not see any first aiders at the scene.
Portsmouth Coroner's Court heard the race involved about 45 cyclists riding for about 60 laps before the final five laps to the finish when speeds would reach 35mph (56kph).
A video of the accident was shown to the jury, during which a woman could be heard shouting "we need an ambulance" as others shout to the remaining cyclists to stop.
Frederick Phillips-Schofield, who was watching his son in the race, said: "All I saw because it's a large group of cyclists going at a hell of a pace, I saw a crash, I saw bicycles going in the air.
"I didn't know it was Richard. I don't know how I got on the track, I went over to the scene and I saw Richard there, his number 16, and I realised he was badly hurt."
Cyclist Thomas Morris told the inquest the riders were vying for position for a sprint finish.
He said: "Someone in front of me either pinched against the barriers or they braked because someone moved in front of them, they went down very quickly and others went down.
"I went over my handlebars into someone else. There was no swerving or braking, it's straight down. I could see straight away it was serious."
Mr Phillips-Schofield said his son had taken up cycling at the age of 15, later achieving national and international success.
He told the inquest his son went to university at Portsmouth to study criminology, leading to his career as a response police officer in Hampshire.
The six-day inquest continues.