HMS Queen Elizabeth: Sprinklers 'accidentally triggered'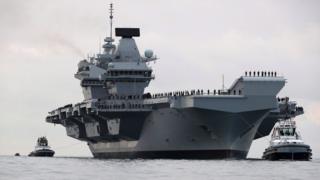 Sprinklers were activated by accident on the UK's new £3.1bn aircraft carrier, the Royal Navy has confirmed.
The fire warning system on Portsmouth-based HMS Queen Elizabeth was "inadvertently triggered" after a routine exercise.
The incident on Sunday is understood to have caused some damage in the hangar but not to the rest of the ship.
A Royal Navy spokesman said: "She remains on track with her trials programme."
Video footage from the vessel, which was commissioned by the Queen in December, appeared to show water spraying downwards from a section of the hangar.
It is understood the sprinklers affected by the problem were quickly isolated and the water cleared.
The incident comes after a leak was found on the ship in December, less than two weeks after its naming ceremony.