MP in law change plea after Isle of Wight caravan owners told to leave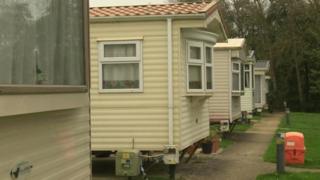 An MP has called for a "loophole" to be closed after static caravan owners lost thousands of pounds when a landlord told them to leave.
Isle of Wight MP Bob Seely said holiday operator Aria Resorts was allowed to tell residents to vacate its parkland as no dates appeared on leases.
He said it should be a requirement for static home owners buying a plot to be given a leasehold for a specified time.
Aria Resorts said it had "sympathy" for residents experiencing "uncertainty".
Seventy-one caravan owners at Rookley Country Park on the Isle of Wight received letters last year from the site's new owners ordering them to remove their homes.
They claimed they were told their caravans could stay at the site indefinitely by the previous land owners but no date was written on their licence agreements.
Carol Luffman, 79, said she originally paid £17,000 for her caravan and spent a further £13,000 on an upgraded one a month before the site was bought by Aria Resorts.
She said: "I sold my ISAs for the first caravan and, because this was more expensive, I sold my premium bonds. So, that's it. This is it. This is what I've got."
Residents told the BBC they would lose an average of about £20,000 each as they would have to sell their caravans at a fraction of the original price.
They said this was because there were only a limited number of other sites they could move to on the island and none of those took caravans more than 10 years old.
Conservative Mr Seely said many of the residents had "invested a lot of money" only to lose it months later.
He said: "We want to stop that from happening again.
"It seems to me that what we need is to close that loophole in the law so when you buy into a caravan site and if you have a plot, you should have a leasehold for an amount of time."
An Aria Resorts spokesman said 35 people were given notice to remove their caravans before the end of 2017, and a further 36 would be required to leave before the end of 2018.
The spokesman added: "Owners who had fixed-term contracts have been allowed to stay on site in accordance to their time stipulated. In one case, this amounts to nearly 10 more years.
"Aria Resorts fully upholds owners' rights to their agreed time on site according to their specific contracts."
You can watch more on this story on Inside Out on BBC One in southern England at 19:30 GMT.