Port of Southampton acquires Eling Wharf to expand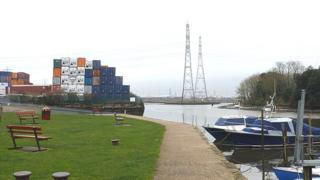 The port of Southampton has announced expansion plans after acquiring Eling Wharf in a multi-million pound deal.
The move came after the 41-acre site in Totton, mainly used for storage, had been earmarked for housing and retail.
Associated British Ports (ABP) said it bought the wharf as the Southampton port had become "busier".
Totton councillor David Harrison said he was disappointed the site would not be used for housing and was concerned about "contamination".
The site currently has warehouses and yards belonging to 24 port-related businesses.
Alastair Welch, director of ABP Southampton, one of the main container and cruise ports in the UK, said: "Port users have increasingly relied on Eling Wharf to support their operations as the port has become busier.
"We were keen to take the opportunity to secure the site to support the important work of tenants on the estate".
He said ABP planned to improve the look of the site, including replacing boundary fencing.
Previous owner Burt Boulton Holdings had been in discussion with New Forest District Council over plans to remove the storage containers on site and replace them with housing and a supermarket.
Mr Harrison said: "The whole community of Totton will be very disappointed that the site isn't going to be regenerated as promised, and there are also some serious issues not properly dealt with, including contamination of the site."