Husband and wife among three dead in Lasham crash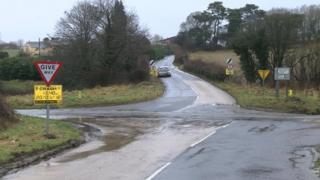 A husband and wife were killed along with a third person in a two-car crash in Hampshire, police have said.
Heidi, 77, and Patrick Eyre, 80, were rear seat passengers in a Honda that crashed with a Hyundai on the A339 near Lasham on Saturday.
Robert Beresford, 90, who was a front seat passenger in the same car, also died in the crash.
The 87-year-old driver, a woman, had minor injuries, as did three men, aged 17, 23 and 25, in the Hyundai.
Police are investigating the circumstances surrounding the crash on the A339 at the junction with Station Road.
Mrs Eyre, from Coval Gardens, near Richmond, south-west London, was pronounced dead at the scene.
Her husband died in hospital a short time after the collision.
Mr Beresford, of Trinity Hill, Alton, died in the early hours of Sunday.