Portsmouth woman cleared of controlling prostitutes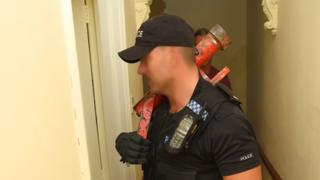 A woman who was arrested in a police anti-slavery operation has been found not guilty of controlling prostitutes.
Sorina Ursa, 23, was among four people detained in raids on a business and three homes in Portsmouth on 22 August.
Three "vulnerable women" were identified as part of the operation, police said previously.
Ms Ursa, of Beecham Road, was cleared by a jury at Portsmouth Crown Court of two counts of controlling prostitution for gain.
Police previously released images of the raids in Beecham Road, Fawcett Road and Powerscourt Road.