Hampshire police panel opposes commissioner budget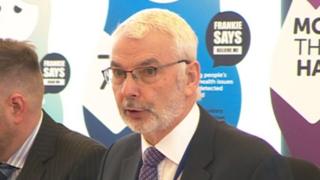 A police and crime commissioner's plan to cut 110 police officers while raising the budget for his own office has been opposed by a scrutiny panel.
Hampshire commissioner Michael Lane planned to save £7m by removing 162 officer and support staff posts while increasing his "low" office spending.
Police and crime panel chairman Dave Stewart said Hampshire and Isle of Wight residents would "not be happy".
Mr Lane said he planned to explain his budget better instead of changing it.
He said: "I will respect that there are some questions that we need to answer more clearly, more publicly, to help the public understand why it's good value."
'Not acceptable'
The cross-party panel of councillors, whose recommendations are not binding, voted unanimously not to support the plans.
Panel member Tonia Craig said: "His office has not been there very long. We did without it before, so why should we be propping it up?"
Bob Purkiss, another member, said the office was "well-staffed" and the plans were "not acceptable".
Budget papers showed Mr Lane planned to increase his office budget from £1.5m to £2m in 2018/19.
The increase includes £280,000 which was previously taken from police force reserves.
The Conservative commissioner told the meeting his office currently had the "lowest cost of all PCCs".
The panel supported Mr Lane's plan to increase the overall police budget by charging an extra £12 a year for the average Band D household.
He said most of the posts to be removed next year were already vacant.
Mr Lane expressed his "disappointment" after his deputy, Flick Drummond, quit in October, weeks after being appointed.
He told the panel there needed to be a close relationship between the commissioner and the deputy but "it could not happen in this case".