Boomtown Fair: Organisers drop plan for 80,000 capacity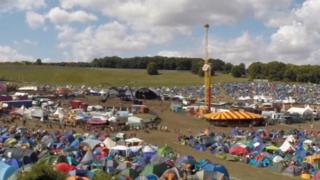 A music festival has withdrawn plans to expand its capacity by a third.
Organisers of the four-day Boomtown Fair near Winchester had applied to raise attendance numbers from 60,000 to 80,000 for this year's event.
Festival-goers faced long delays getting into the event in August due to technical problems.
A revised application for 60,000 festival goers plus staff and artists has been discussed by Winchester City Council's licensing sub-committee.
Nearby residents had raised concerns about the impact on transport when the festival submitted plans to increase its capacity in December.
Boomtown Fair had insisted the increase in traffic to the site on the A31 could be "effectively managed".
Following discussions with Hampshire Police, it revised the capacity back to 60,000 along with additional staff, artists and guests.
The organisers also said an additional 1,000 tickets would be provided to local residents.
Winchester City Council is due to make a decision on the revised licensing application at a later date.
Some people reported fights, fainting and sunburn as they faced long delays entering the 2017 festival, with organisers blaming a technical glitch with the wristband system as well as increased searches and delays opening the site gates because of bad weather.
Eighty-two cars were destroyed when a lit cigarette ignited grass stubble in a car park at the festival in 2016.
The 2018 event is due to take place on 9-12 August, with Gorillaz already named as headliners.