'Paedophile hunter' accused of 'causing anxiety' online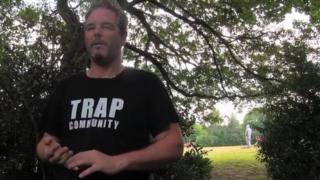 A self-styled "paedophile hunter" has been summoned to court over claims he posted a message online that caused "annoyance, inconvenience or anxiety".
Stephen Dure, 33, from Southampton, has been accused of posting the message between 28 November and 14 December, Hampshire Police said.
Mr Dure, also known as Stevie Trap, has featured in videos on Facebook watched millions of times showing him confront suspected paedophiles.
He is due in court next month.
Mr Dure appeared in a regional edition of a BBC Inside Out programme in September, when he explained how he posed as children on the internet to "trap" sex offenders.
He was filmed confronting one man later convicted of child sex offences.
A Hampshire Police spokesman said the summons was for "sending a false message by public electronic communication network to cause annoyance, inconvenience or anxiety".
Mr Dure is due to appear before Southampton magistrates on 26 February.