Stricken Russian cargo ship moved to Southampton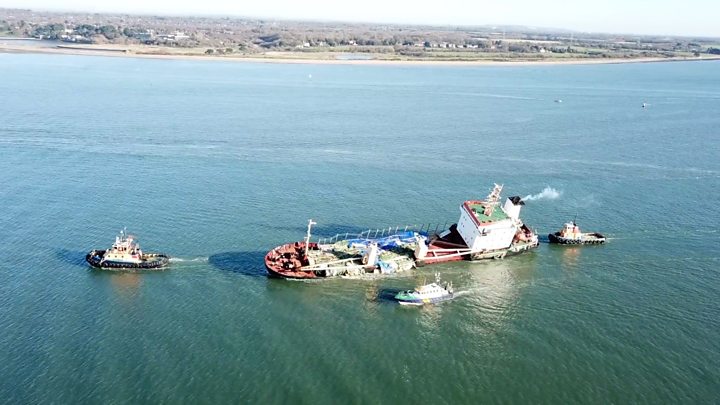 A Russian cargo ship, stricken in the Solent with a "significant list", has been moved into port.
The Mekhanik Yartsev got into difficulties off Lee-on-the-Solent early on Tuesday.
The 13 crew members are reported to be safe and well and remain on board the vessel, which is carrying wooden pallets. Bad weather meant it could not be moved as planned earlier this week.
A tug and pilot boat successfully moved the ship into the Port of Southampton.
The ship, which was en route from Riga, Latvia, to Warrenpoint in Northern Ireland, lost some pallets overboard before heading into sheltered water in the Solent on Tuesday.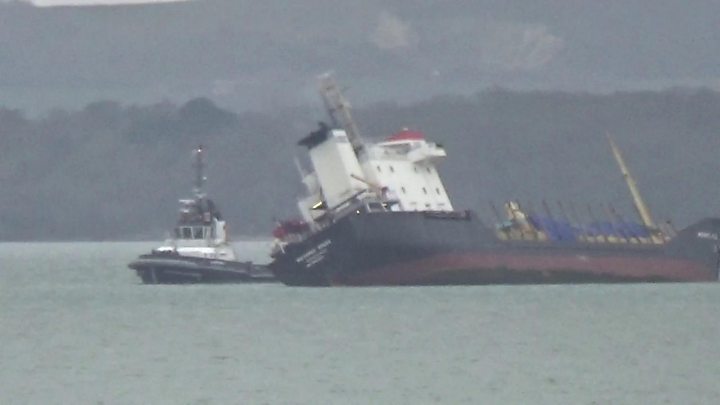 The Maritime and Coastguard Agency (MCA) said it had developed a 20-degree list, but had power and was stable.
It said further pieces of cargo were lost from the vessel during the early hours of Wednesday and warned some may wash ashore.
With improved weather on Thursday morning, the ship was taken to King George V dock in Southampton where its cargo will be unloaded in a bid to right the ship.
It was accompanied by a police patrol vessel and an RNLI lifeboat.