'Slaves' found on docked fishing boat in Portsmouth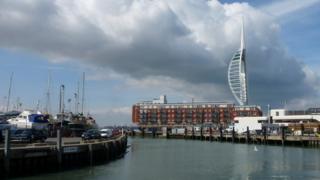 Two men have been arrested after five suspected victims of modern slavery were found on a fishing boat.
The men, from Ghana, were found on the vessel in Portsmouth Harbour on Thursday.
A 30-year-old man from Annan, Dumfries and Galloway, was detained on suspicion of arranging the men's arrival into or within the UK.
A 33-year-old man from Southport, Merseyside, was later arrested on suspicion of modern slavery offences.
Police officers boarded the boat at Camber Dock, East Street, at about 15:30 GMT on Thursday.
The five Ghanaians, who had been working on the boat, were taken to a place of safety, police said.
Four further men, who arrived to board the boat on Friday, were also removed and are being treated as potential victims of slavery.
The immigration status of the men, aged between 25 and 57, is being checked, police said.