Hampshire PE teacher denies sex assaults on teenage pupils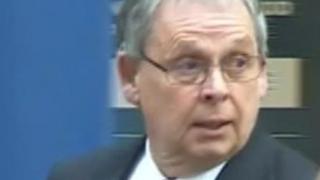 A PE teacher accused of sexually assaulting teenage girls has told a court he had "absolutely not" tried to kiss a pupil in a school office.
Richard Hilary is accused of 14 sexual assaults against five girls while working as a teacher and coach in Hampshire in the 1970s and 80s.
Giving evidence at Winchester Crown Court, he said there was "no possibility" incidents in a school PE office could have happened.
He denies the offences.
The prosecution had previously told the trial Mr Hilary had "abused his position in order to indecently assault highly-impressionable under-age girls" at the Wavell School in Farnborough and as a coach at Winchester Athletics Club.
Mr Hilary, of Northend Lane, Droxford, said he recalled attending a fancy dress school disco in the early 80s, dressed as Greek singer Demis Roussos which "most staff" had also been at.
He was asked by defence counsel David Reid about accusations by a woman who previously told the court she had been given "full on passionate kisses" by the teacher at the event.
Mr Hillary replied "no, never".
When asked about another occasion, on which he was accused of kissing a pupil and and touching her breast in the doorway of the school's PE office before school started, he told the jury there was "no possibility" of being alone as prefects were always nearby.
He also replied "no" to accusations he had asked a pupil to perform sex acts on him in the PE office, saying staff were "never guaranteed complete privacy" in the shared office.
Mr Hilary, who went on to become head teacher of Chamberlayne Park School in Southampton and retired aged 55 in 2006, said he had "never been spoken to about my behaviour" by other staff members during his career.
The trial continues.