Royal Navy ship HMS Diamond 'breaks down' in Gulf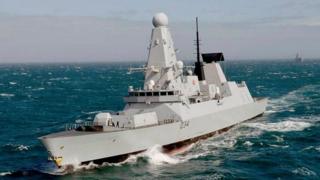 A Royal Navy ship has been forced to abandon its mission after breaking down in the Persian Gulf.
HMS Diamond is returning to its home port in Portsmouth after developing mechanical problems.
Diamond, along with the Navy's five other type 45 destroyers, are awaiting a refit to rectify a problem with their propulsion systems.
The £1bn vessel, launched in 2007, had been deployed to provide security in the Gulf region.
A Royal Navy spokesman said: "We can confirm HMS Diamond has experienced technical issues, but we do not discuss the detailed materiel state of our operational ships and are unable to comment further."