Closure of Southampton respite centre agreed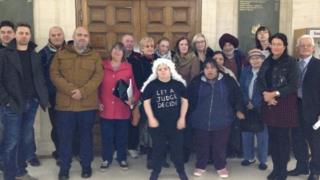 Councillors have approved the closure of a respite centre in Southampton.
The centre in Kentish Road will shut on 30 November as part of £120m cuts, following a vote by the city council's cabinet.
Service users and their families had urged councillors to save the centre and are now planning to launch legal action against the decision.
A report said alternative arrangements had been identified for the 30 people who use the facility.
'Disgraceful and disgusting'
The council previously said £300,000 a year would be saved by closing the site, which is used by people with disabilities and illnesses to give their carers a break.
However, a revised figure showed £104,000 would be saved in the first year, rising to £185,000 in the third year.
Clare Marmolinero, whose 71-year-old brother Mike has been using the service for 20 years, said the planned closure was "disgraceful, disgusting... terrible".
"We weren't listened to and haven't been listened to for three years," she added.
Campaign leader Amanda Guest, whose 27-year-old daughter uses the service, said she was "extremely angry" about the decision, which she added "doesn't make sense".
"We have a watertight case and will be pursuing legal action," she said.
"They've broken up a community. It's ruined my daughter's life, she is very anxious now about what's going to happen."
Labour leader of Southampton City Council Simon Letts praised the families and carers for their three-year long campaign, but said the council needed to make £120m of cuts over seven years.
Conservative opposition leader Jeremy Moulton said he was going to "call in" the decision through the overview and scrutiny committee, which might put it on hold.