Term-time holiday row prompts shorter summer holidays plan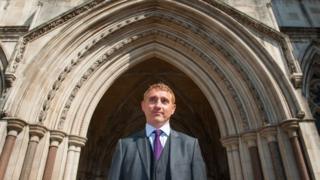 Summer holidays could be cut and replaced with longer half terms by a council at the centre of a legal battle over unauthorised school absences.
The Isle of Wight is to consult parents over proposals to reduce the mid-year break after a legal battle over term-time holidays.
The council was involved in a row with Jon Platt, who refused to pay a fine for taking his daughter on holiday.
Councillors agreed to launch the consultation on 24 November.
Children's services councillor Paul Brading said: "It was our pledge to examine options to give families more choice over when they take their holidays, while at the same time making term lengths more even.
"Our unwavering aim is to further improve attendance which will then drive up educational standards so we have all our schools rated 'good' or better by Ofsted."
Jon Platt lost his case at the Supreme Court in April, despite winning prior legal battles against the council.
Mr Platt, whose application to take his daughter out of school in 2005 was turned down, refused to pay the resulting £120 fine.
He was successful in the initial case brought by Isle of Wight Council when he argued his daughter had attended school regularly.
However, after the Supreme Court ruling in April, the case was returned to magistrates where Mr Platt was given a 12-month conditional discharge and ordered to pay £2,000.
The case cost taxpayers £140,000.