HMS Queen Elizabeth makes first departure from Portsmouth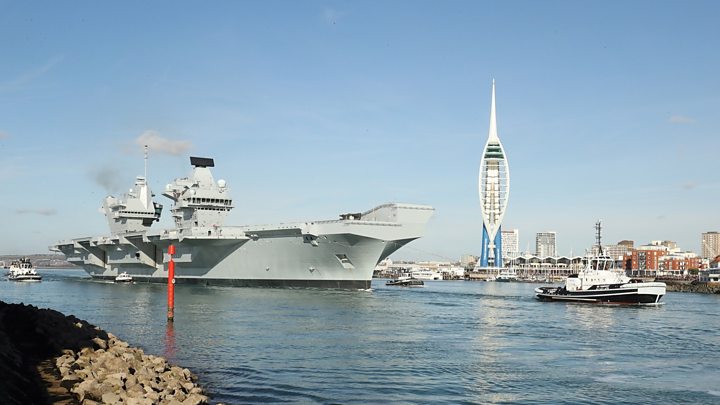 The Royal Navy's new £3bn aircraft carrier has sailed out of Portsmouth for the first time.
HMS Queen Elizabeth was unable to leave port last week because of bad weather and continuing engineering work.
It left its mooring in its home port for a second series of sea trials shortly after 12:00 GMT.
The 65,000-tonne ship arrived in Portsmouth in August after leaving Rosyth in Fife, where it was built, in June.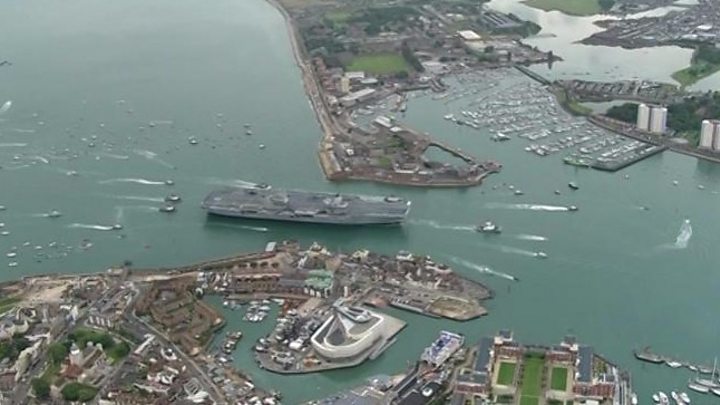 Aircraft Carrier Alliance (ACA), which operates the ship, said the sea trials would be testing the vessel's radar and communications systems, power and propulsion as well as monitoring air flow patterns around the flight deck.
Captain of Portsmouth Naval Base, Capt Bill Oliphant said the trials were an "extremely significant milestone" in the life of the ship.
HMS Queen Elizabeth is expected to be at sea for the next month. It is due to return to Portsmouth to be formally commissioned into the Royal Navy before the end of the year.
The 900ft-long (280m) carrier cannot currently deploy planes but flying trials are due to begin next year.
HMS Prince of Wales, the second of the navy's new aircraft carriers, is in the final phases of construction in Rosyth Dockyard and is expected to be floated out of its dock in the spring.
Preparations for the arrival of the future flagship of the fleet, and its 700 crew, saw more than 20,000 items ranging from a human skull to sea mines dredged from Portsmouth Harbour.
HMS Queen Elizabeth
The Royal Navy's largest ever surface warship
280m Flight deck length

700 Crew currently on board

155,000 miles Length of electrical cable inside the ship

162db Volume of foghorn
PA