Southsea to Ryde hovercraft back in use after breakdowns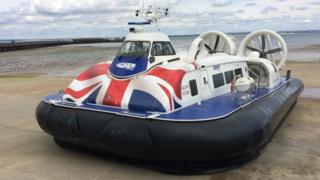 A pair of hovercraft which have suffered technical issues since entering service over a year ago are being brought back into use.
Both £5m vessels were pulled from the Southsea and Ryde route in September after a number of breakdowns.
Hovertravel said its Solent Flyer craft was back in use and the Island Flyer is undergoing tests before returning to service "in the next few weeks".
The firm said both craft have been fitted with new propellers.
The route has been operated by the firm's Island Express craft and Freedom 90 craft, which are nearly 30 years old, while engineers repaired the new craft.
Managing director Neil Chapman said: "We will continue to operate our timetable with a mixture of our craft for the foreseeable future as we see both Solent and Island Flyer take the timetable over."