Printer sparks transgender row over Christian beliefs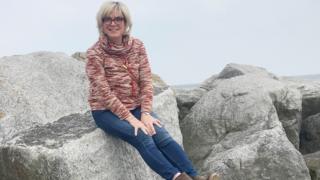 A transgender businesswoman has said she was "stunned" after a printer refused to accept an order because of his Christian beliefs.
Joanne Lockwood from Portsmouth requested business cards for her diversity consultancy from Southampton-based printer Nigel Williams, as reported in the Sunday Times.
Mr Williams raised concerns that such businesses "marginalise Christians".
Ms Lockwood said she would not be pursuing legal action.
She started a consultancy business earlier this year to advise firms on issues faced by transgender people in the workplace.
More on this and other stories from across the South of England
An order was placed for business cards after she met Mr Williams at a networking event in Fareham in September.
In an email reply Mr Williams declined to carry out the order.
"I have seen how the new model of diversity is used (or misused) to marginalise (or indeed discriminate against) Christians in their workplaces and other parts of society if they do not subscribe to it," he said.
Ms Lockwood said she would not be escalating the issue further or taking legal action but was just "making a stand".
"Because I've felt very accepted and included in interactions over the past few months, I was stunned, gobsmacked and winded.
"Everything from other businesses has been all positive. All I'm saying is 'this is not right' - society needs to call this out," she said.
A spokesman for the Christian Institute campaign group, which is providing support to Mr Williams, said the printer had been willing to work for Ms Lockwood but was not prepared to do work for a business that "actively promoted a cause which might impact negatively on those with a Christian faith".
"The terms 'equality', 'diversity' and 'tolerance' have been twisted out of all recognition in an attempt to marginalise, shame and punish Christian people," he added.