Southampton Students' Union honorary cat president dies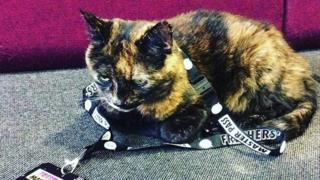 A cat who was made honorary president of Southampton University Students' Union has died.
Susu, a stray who was adopted by the union over 15 years ago, died of old age on Wednesday, the union said.
Human president, Flora Noble, said: "She will be sorely missed. She was a true figurehead of the union, and will always remain in our hearts."
The union said a book of condolence for the much loved campus pet will open on Monday on the concourse in building 42.
In a statement the union said she "brought love and cuddles to the lives of Southampton students and will be greatly missed".
Susu also featured as the university's mascot on University Challenge.
The position of honorary president had only been held by one other individual, George Clegg who retired in 2009 after working for the union for 30 years.