Southampton tower block's fire doors 'fail in high winds'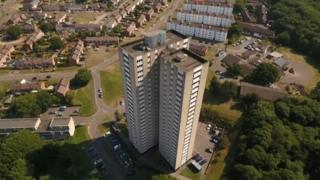 Fire safety doors in a tower block are blown open in high winds, according to a BBC investigation.
Doors to the stairwell in the 24-storey Canberra Towers building in Southampton stay half open on windy days.
Chartered Building Surveyor, Howard Jenkins, who inspected the fire doors for BBC Inside Out South said they were "completely ineffective".
Southampton City Council said the tower was passed "fit" by inspectors but an independent probe will start next week.
Mr Jenkins added: "Very high winds circulate around the building and they simply blow the fire doors open so they would be completely and utterly ineffective.
"The doors need to be put right".
Resident Rosie Jeffrey said: "If it's a really windy day the doors will stay half open constantly."
The authority said the block on Kingsclere Avenue, built in 1967 and one of the city's tallest, is also due to undergo a £5m upgrade.
You can see more on this story on Inside Out South, BBC One on Monday 2 October at 19:30 BST and on the iPlayer for 30 days from then.