Waterlooville shooting inquiry leads to eight more arrests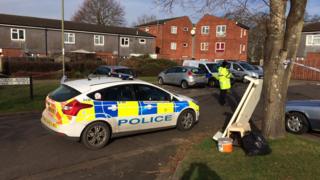 Eight further people have been arrested in connection with a shooting in Hampshire.
They were detained on suspicion of conspiracy to murder after Jamie Sibley suffered a "life-changing" head injury in Waterlooville.
Mr Sibley, 34, was injured in Athena Avenue, Crookhorn, on 13 February and has since been released from hospital.
A boy, four men and three women have been arrested. Four people detained earlier were released without charge.
Three of the newly arrested men, aged 22 , 23 and 26, and the 16-year-old boy are from London.
A 47-year-old woman from London, a 31-year old man from Surrey, and two 31-year-old women, one from Waterlooville and the other of no fixed address, have also been arrested.
A 37-year-old man from Havant, a 35-year-old man from Waterlooville, a 32-year-old man from Hayling Island and a 39-year-old woman from Waterlooville were previously arrested and released with no further action.