M3 closure: Police criticised over lack of information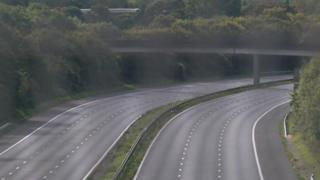 Police have been criticised for not revealing more information about a "mysterious" material that sparked an 11-hour closure of the M3.
Thousands of motorists were caught up in long queues when it was shut on Saturday between junctions nine and 11.
Former Hampshire Police and Crime Commissioner (PCC) Simon Hayes said: "The public deserves to be told and understand what happened."
Police said they had faced a "challenging set of circumstances".
The substance was flammable but not explosive.
Mr Hayes said communication from the police's public relations department was "a disaster".
He added: "I would hope there is a jolly good reason for it [the motorway] to be closed. There's been nothing from the office of the PCC and the whole thing is really very mysterious."
The discovery of the partly-ignited substance, thrown from a bridge, saw military bomb disposal experts called to the scene near Winchester.
The motorway was closed shortly before 04:00 BST and fully reopened by about 15:30.
Winchester MP Steve Brine said the day had been a "nightmare".
"Ultimately the road was closed - that was the right decision, but let's remember where the blame lies - people throwing things off bridges.
"We've got to learn lessons. Unfortunately it probably will happen again and we have to make sure the public is only as inconvenienced as much as it has to be."
Supt Simon Dodds said an investigation was under way into how information about road closures was released.
"We had to establish what the substance was to make sure it is safe, and that is against the background of the backdrop of the current terror threat assessment in the UK is at the moment, which is severe.
"We recognise it caused significant disruption for people caught in the traffic. We really do apologise. I recognise it will have impacted quite heavily.
"We've got to say sorry for that but it was done with the best of intentions of making sure people travelling on that road were safe."
Highways England said it had done "everything we could do in the circumstances".
Customer service director Mel Clarke, said: "We worked hard on Saturday to give drivers accurate, up-to-date information about conditions on the M3 and to keep traffic moving as much as possible.
"We set up a diversion as soon as the closure had been implemented, and we set signs and signals across our network to warn drivers on approach."
Hampshire Police said nobody was hurt and there was no wider risk to public safety. It also confirmed it was not being treated as a terrorist incident.
Current Hampshire PCC Michael Lane has also been asked to comment.