Man 'choked to death on wedding anniversary steak'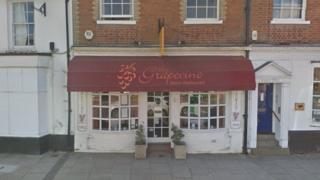 An 84-year-old man died after choking on a piece of ribeye steak while celebrating his 57th wedding anniversary, an inquest heard.
Michael Pitts was dining with wife, Joan, 78, at The Grapevine restaurant in Odiham, Hampshire, on 16 June, when the meat became lodged in his throat.
Restaurant staff and paramedics tried to resuscitate him but he later died in hospital.
Coroner Andrew Bradley recorded a verdict of death by misadventure.
'Bit chewy'
He added a post-mortem examination showed the cause of death was asphyxia contributed to by heart disease and old age.
Mrs Pitts told the Basingstoke inquest her husband had complained the steak was a bit chewy but when asked by the waiter if he wanted it changed, he said that it was "probably just the cow".
"It was his sense of humour," she added.
She continued: "I just saw him coughing and I thought he had something which catches.
"I told him to have a glass of water, and with that his arms went down and he just fell backwards into his chair."
Blocked airways
Staff at the restaurant attempted to resuscitate Mr Pitts and put him in the recovery position until paramedics arrived, the inquest heard.
After about 40 minutes the medical team found his airways were blocked and extracted a piece of steak from his throat. He later died in hospital.
Mrs Pitts said everyone "worked extremely hard" but added no-one initially realised food was stuck.
Restaurant manager Sumin Lohani described the death as "very sad", adding: "It should have been the best memory to celebrate their 57th wedding anniversary at my restaurant."
Mr Bradley said: "It was a celebration that went wrong, it could not go any more wrong than that."