Hampshire man cleared of harassment over 'noisy' cockerel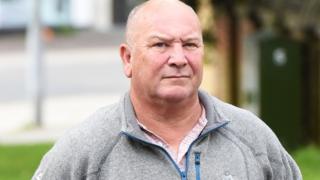 A businessman has been given a restraining order despite being cleared of harassing his neighbours over their "noisy" cockerel and hens.
Neil Dymott was found not guilty of harassment against Helen Richardson and Paula Holland over noise at their property in Marchwood, Hampshire.
The 56 year old was accused of playing excessively loud music, including hits by Queen, when the cockerel crowed.
He told Southampton Magistrates' Court the bird was "crowing all day".
Mr Dymott had complained to police that his neighbours, in a rural area of Marchwood, had harassed him by failing to keep the cockerel and other birds quiet.
He told the court his neighbours' birds were foreign breeds which "do not just crow once - they crow, crow, crow".
He was accused of playing music by Queen at a loud volume as well as the Percy Sledge song When A Man Loves A Woman repeatedly for an hour and a half.
Mr Dymott denied playing his music loudly on numerous occasions and said it had only happened twice.
The court heard that Miss Richardson and Miss Holland had arranged for the cockerel to be killed in August 2015 but the dispute continued afterwards.
Colin Wyatt, chairman of the bench, said: "Whilst we find some of the actions and behaviour were inappropriate we do not feel this constitutes the offence of harassment."
Magistrates imposed a restraining order on Mr Dymott prohibiting him from contacting the complainants directly or indirectly for two years.