Woman charged following Portsmouth modern slavery raids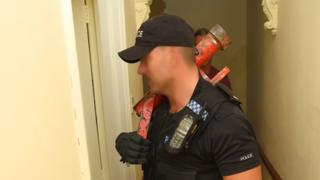 A woman has been charged following a police investigation into modern slavery offences in Portsmouth.
Police raided one business and three homes in Beecham Road, Fawcett Road and Powerscourt Road in the city on Tuesday.
Sorina Georgiana Ursa, 23, of Beecham Road, Fratton, has been charged with two counts of controlling prostitution for gain.
She was released on conditional bail by Portsmouth magistrates.
Ms Ursa is due to stand trial at Portsmouth Crown Court on a date to be fixed.
A 26-year-old woman, 23-year-old man and a 31-year-old man were also arrested and released while police inquiries continue.