US 'not to be trusted' over alleged paedophile Roger Giese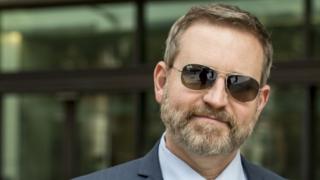 A promise by US legal officials about the future treatment of an alleged American paedophile should not be trusted, an extradition hearing has heard.
Roger Giese is fighting a renewed bid to extradite him from the UK to the US.
He is wanted for trial in California, charged with sexually abusing a boy under 14 between 1998 and 2002.
The removal of the 42-year-old was previously blocked by High Court judges on human rights grounds.
The former choirmaster, who has been living in a Hampshire village under a different name and working for a PR company, was at the hearing at Westminster Magistrates' Court, where two expert witnesses on US legal proceedings and prison conditions gave evidence via videolink.
Mr Giese is wanted in Orange County, California, on "19 serious charges of sexual offences" against a young boy, the hearing was told.
UK judges had refused to extradite Mr Giese after concerns were raised that, if convicted, he could be subjected to an order for civil commitment - a form of indeterminate confinement in a secure facility.
A new assurance from the Orange County District Attorney's office, stating that a civil commitment order would not be sought, was also regarded as "not sufficient".
An extradition request from the United States was first certified by the Home Office in May 2014 and a series of legal battles has been fought over Mr Giese's removal ever since.
The hearing continues.