Are You Being Served? actor Arthur English honoured with blue plaque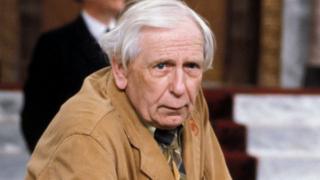 Actor and comedian Arthur English has been commemorated with a blue plaque to mark where he was born in Aldershot.
English, who played maintenance man Mr Harman in the BBC sitcom Are You Being Served?, died in 1995 aged 75.
Jess Conrad OBE unveiled the Aldershot Civic Society plaque at 22 Lysons Road, where he was born in 1919, joined by members of English's family.
The actor was also the former president of Aldershot Town FC and designed the club badge depicting a rising phoenix.
The plaque is the first to be granted in the town by Aldershot Civic Society.
Are You Being Served? was set in fictitious department store Grace Brothers and ran from 1972 to 1985, often attracting audiences of more than 20 million.
English also appeared in many other TV series including Dad's Army, The Ghosts of Motley Hall and In Sickness and in Health.