UKIP homeless 'detritus' comments: Councillor 'pleased' with backlash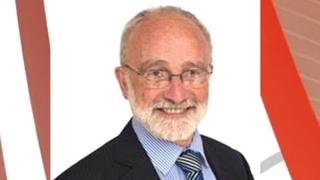 A UKIP councillor who came under fire for referring to homeless people in Portsmouth as "unwelcome detritus" has said he is "so pleased" with the reaction.
Colin Galloway put forward a motion to the city council which said he wanted the police to help remove homeless people from the city.
Homeless charity Crisis branded the comments "offensive and toxic".
Mr Galloway said he was glad he had "got everybody's attention".
Mr Galloway is calling for the council to write to the Police and Crime Commissioner Michael Lane asking for the police to take more of a role in removing homeless people from the streets.
He said he wanted officers to "forcibly remove" people from the streets and take them to an assessment centre.
Mr Lane previously described Mr Galloway's comments as "disgusting".
Sandwiches 'no help'
In the motion to the council, Mr Galloway wrote: "These beggars, vagrants, rough sleepers, homeless, troubled folks or whatever label you want to put on them must be removed from our city and placed in specific care whether they want to or not."
He called on police to "help us clean up this unwelcome detritus".
He now said he had not called people "detritus".
Mr Galloway added: "I called what they leave on our city 'detritus'. These are human beings in a bad place."
He added: "The words needed to be harsh and nasty, let's have you all attacking me. Have my words done the job? Absolutely.
"Giving someone a sandwich doesn't help the problem."
"I am absolutely amazed and so pleased that at long last people are getting engaged with this problem," Mr Galloway said.
Portsmouth City Council is due to debate the motion on Tuesday.
The authority estimates its number of rough sleepers has risen from 37 last autumn to 60 in May.