'No way' of monitoring Southampton docks air pollution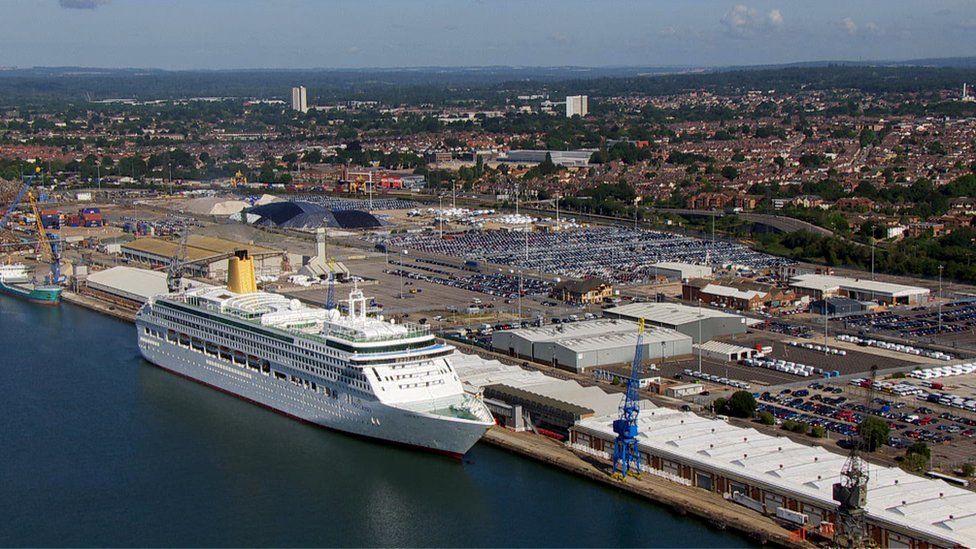 Southampton, the biggest cruise port in Britain, has no way of monitoring air pollution generated by emissions from the largest ships in the world.
A BBC investigation reveals Southampton docks does not monitor its air pollution rates, despite the city being among the most polluted in the UK.
Southampton City Council estimates the port contributes up to 23 per cent of air pollution in the city.
Ships can use a "plug-in" system to reduce emissions but not in the UK.
The city's port welcomes thousands of ships a year, including some of the biggest cruise liners and container ships in the world.
The vessels leave their engines running while docked to power their electrics, but elsewhere in the world ships use a shore-based electricity supply, virtually eliminating their emissions.
Cargo and cruise ships, including the Queen Mary 2 and Britannia which regularly dock in Southampton, use the method - just not when visiting the British port.
Port Director Alastair Welch from ABP said: "The challenge has been in particular there is no one standard for shore power. I'd like it in place as soon as possible.
"I should emphasise shore power is not the only answer and that's why we're working with solar power and hybrid ships now, because all of them have a part to play for the future."
A review of Air Quality in Southampton in 2015 by the local authority showed the port is believed to contribute between seven and 23 per cent of the air pollution, while cars contribute 18 per cent and HGVs 12 per cent.
The government has since told Southampton to implement clean air zones by 2020 and the council is implementing a Clean Air Strategy to meet national goals.
Related Internet Links
The BBC is not responsible for the content of external sites.