Lyndhurst hotel demolition plan refused by park authority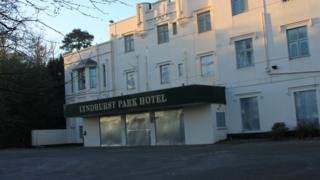 Plans to demolish a New Forest hotel and build retirement homes have been rejected by the park authority.
Developer PegasusLife wanted to replace Lyndhurst Park Hotel with 74 pensioner flats and 12 holiday lets.
More than 500 campaigners objected to demolishing the building, which has historical connections to novelist Robert Louis Stevenson.
New Forest National Park Authority refused the application due to problems with the development strategy.
In a report, the authority said PegasusLife was planning to "retain existing hotel and employment uses" and new residential development was restricted to "extensions, replacement dwellings or affordable housing".
It also said the "dominant form of development and overly urban environment would be entirely at odds with the sensitive edge of the village site."
PegasusLife previously said the development would have "many benefits" but more than 500 members of the community came forward during a planning consultation to object and call for affordable housing for young families instead.
Brice Stratford, a local historian involved in the campaign to stop the development, said: "When I found out my reaction was one of satisfaction. It is really good in terms of authorities listening to the people and the community.
He added: "There was a presumption that the big corporation would win, but it is really nice that from a grass roots campaign and people going through the proper channels their voices were listened to."
Mr Stratford said the hotel, previously known as the Glasshayes House, was once linked to smuggling, visited by Treasure Island author Robert Louis Stevenson and haunted by ghosts.
A spokesperson for PegasusLife said they had wanted to discuss the option of starter homes being introduced into the scheme with the authority and were "disappointed" by the result.
They added it was too early to decide on the next step.
The hotel was originally built as a private mansion house in the early 19th Century.