Arrests made in Portsmouth Arts Lodge centre eviction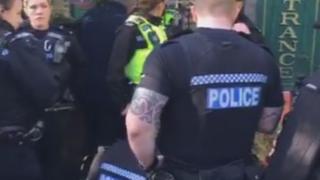 Five people have been arrested after two police officers were assaulted following a dispute over a Portsmouth arts centre.
Police were called by city council staff requesting assistance to carry out an eviction at the Arts Lodge in Victoria Park shortly before 10:00.
A Hampshire police spokeswoman said one of the officers had sustained a knee injury.
Campaigners gathered at the park in support of the centre.
A 48-year-old man from Southsea was arrested on suspicion of assaulting a police officer, using threatening or abusive behaviour and possession of a class B drug.
A 51-year-old woman from Southsea was arrested on suspicion of assaulting a police officer.
A 23-year-old woman from Portsmouth, a 28-year-old man from Southsea and a 52-year-old man from Southsea were detained on suspicion of aggravated trespass.
Liberal Democrat opposition councillor Dave Ashmore tweeted that Mr Lewis of owners Art and Soul Traders had been evicted "against popular wishes".
More than 4,000 people have signed a petition trying to keep the facility, run as a not-for-profit social enterprise, since its closure was announced last year.
It described the centre as "loved and cherished".
The council wants to use the venue as a cafe to help vulnerable adults get back into work.
The authority said Art and Soul Traders had signed a 10-year lease in December 2012, which included a five-year break clause either party could initiate to end the contract by giving 6 months' notice.
It said Mark Lewis was contacted over eight months ago advising him the lease would expire on Sunday 5 February and he had been offered alternative premises
"We had hoped to avoid any confrontation and resolve this amicably. Today's actions are upsetting for everyone involved. Two female members of staff felt aggressively threatened and had no choice but to call the police.
"Mark Lewis was fully aware that we had planned to take back the property and we had asked the keys to be returned yesterday because renovations to the lodge are due to get underway shortly, which include installing public loos, improved café facilities and opportunities for adults with learning disabilities."