Portsmouth A&E: CQC finds "sustained improvements"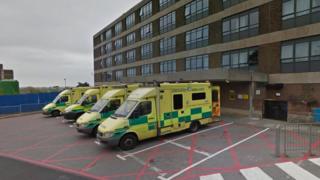 A hospital emergency department which was previously branded "chaotic" has made "sustained improvements", the health watchdog has found.
Early last year the Care Quality Commission (CQC) found ambulances queuing and patients waiting hours for assessments at the Queen Alexandra Hospital in Portsmouth.
It has now moved the unit's rating from "inadequate" to "requires improvement".
The hospital said it was "pleased" improvements had been recognised.
CQC inspectors who visited in February and March 2016, said there was an "unacceptable" risk to patients in the emergency department.
At times, ambulances were stacking up outside the department and waiting times were among the worst in England, with almost a third of patients waiting more than four hours to be treated.
In May, Portsmouth Hospitals NHS Trust's then-chief executive Ursula Ward resigned but no reason was given.
An unannounced follow-up inspection carried out in September found "effective processes and reporting" in the department and an accessible "Jumbulance" vehicle which had been used to treat patients in the car park had been removed.
"Sustained improvements had been made in the emergency department and the emergency care pathway although further work was needed to ensure this was sustained.
Professor Edward Baker, deputy chief inspector of hospitals (South), said there had been "a tremendous amount of local scrutiny" of the A&E department.
"The trust has concentrated its efforts to provide sustainable improvements. While there is still further improvement needed we considered that the trust had met the urgent conditions imposed on its registration," he said.
The NHS trust's interim Chief Executive, Tim Powell, said staff had made a "huge contribution" to emergency and medical services.
"I am proud of the efforts that they have made in improving the services we provide.
"We all recognise that there is still much to do in order to deliver further improvements for our patients, staff and partners at South Central Ambulance Service. I remain confident that the combined leadership efforts of everyone across our local health care system will support those improvements.