Portsmouth FC's Christian Burgess at U12's park session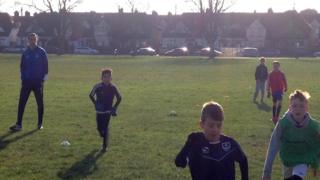 A Portsmouth footballer paid a surprise visit to a youth training session in a city park after his team's match against Crawley was cancelled.
Defender Christian Burgess tweeted that he did not know what to do with himself when Saturday's match was postponed due to a frozen pitch.
Among dozens of responses was one from coach Will Chitty, inviting Burgess to his under 12s football session.
To Mr Chitty's surprise, the player turned up at Bransbury Park.
Mr Chitty, who coaches Skilful Sports youth sessions in the city, said: "When I posted the tweet it was very much tongue in cheek, I didn't think anything would come of it - it was just a bit of a joke really.
"I said to my son before training that I tweeted him and my son said, 'he's not going to come is he?'. No, of course he's not going to come but it's a bit of a laugh.
"Then, half an hour into the session, Christian wanders over and says, 'I'm looking for Will'.
"It took me a couple of minutes just to compose myself and then we had a quick chat and I said to him, 'could you put a little training session on for the lads?'."
Mr Chitty said, before long, his young players were firing questions at the defender like 'do you earn £50m?' and 'who's your favourite player?'.
He said: "He stayed for around just over an hour. He put on a session and watched them play a match and posed for some photos.
"He said he might pop down there again but the problem is he's normally busy on a Saturday so we'll have to see about that one."
After the session, Burgess tweeted: "Thanks for all the kind messages but it's @w_chitty and people like him who give up their time week in week out who deserve our respect."