Portsmouth charity's aid container bound for Syria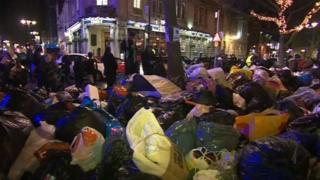 A container of donated goods to help people in war-torn Syria has started its journey.
Portsmouth charity Don't Hate, Donate said it was overwhelmed with the amount of items brought in during a collection at the city's Guildhall in December.
It said more than 20 tonnes of donations were dropped off at the collection point in two hours.
The 40ft container took 26 tonnes of aid, including blankets, clothes and medicines, to help displaced people.
Volunteers packed the shipment in an operation that took up to three hours.
The charity, which has its base in Fratton, opened a second collection point at a pub in Alton to cope with the number of donations.
Susannah Stredder, the landlady of The George pub, said: "Every day for the last three weeks we've had a room full of donations to sort out, box up, label and get ready for the container that's going to take it all over to Syria."