Man drowned after drunken night out in Southsea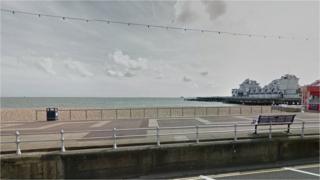 A man drowned in the sea after getting drunk and getting lost on his way home, an inquest heard.
Nitin Woocheet, 26, from Southsea, had drunk three pints of Guinness and several Jagermeister shots while celebrating St Patrick's Day last year.
The court heard he was seen on CCTV staggering and falling before arriving at Southsea seafront on 17 March.
Coroner David Horsley returned a verdict of accidental death.
Mr Horsley said: "We do not know why he took the route he did. The only thing I can speculate is he lost his bearings, he had quite a lot to drink and was probably confused. Why he ended up on the seafront we do not know."
Two friends sitting in their car who saw Mr Woocheet fall on the pebbles raised the alarm after hearing cries from the sea.
His body was found off Sandown Bay more than a month later.
Mr Horsley added: "I think what has happened is Nitin has been staggering more and more and getting more and more disorientated. He's got on to the beach, he's ended up going into the sea with the sad result that he has drowned.
"I do not think Nitin has deliberately gone into the water, I think it's happened because he has been disorientated and drunk in a cold, dark place."