Portsmouth hospital bus lane review following concern over fines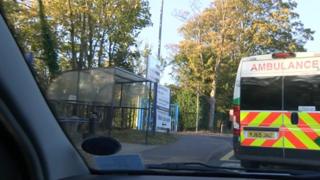 A review of road signs is to be carried out after more than £210,000 in fines were issued to drivers caught in a bus lane near a Portsmouth hospital.
The enforcement camera near the Queen Alexandra Hospital has caught more than 3,500 drivers since it was installed in July 2016.
Motorists said warning signs around Cavell Drive were easy to miss.
MP Penny Mordaunt said the council should review all such sites where large numbers of fines were issued.
Among those fined was Andrew Peryer. He was sent a photograph two days after the death of his wife Wendy, 53, showing them in the bus lane.
He said warning signs were partially hidden by a bus shelter and other billboards and that drivers were "genuinely making a mistake".
Council figures show the enforcement camera amassed fines totalling £123,000 within 11 weeks of it being installed. A further 1,453 tickets have been issued since November, bringing the total fines to more than £210,000.
'Clearly shown'
Portsmouth North MP Penny Mordaunt said: "Traffic management is in place to stop dangerous or anti-social driving. If you are still getting a load of fines in, it is a clear indication it isn't working.
"In this instance, clearly those who have been fined have suggested the signage could be improved and I think that is probably a sensible thing for the council to do."
Portsmouth City Council said the signs complied with national regulations.
Cabinet member for traffic and transport Jim Fleming said: "I recognise the sensitive nature of the hospital site and that a large number of contraventions are occurring as people leave the site despite the signs and the Way Out being clearly shown.
"I have therefore asked officers to work with the Hospital Trust to see if any additional signs or road markings on the approaches to Cavell Drive on their land could give drivers even more warning of the restrictions"