Hampshire police name change to include Isle of Wight scrapped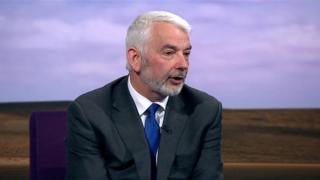 Hampshire Constabulary's name will not be changed to include the Isle of Wight, the police and crime commissioner (PCC) has said.
Former PCC Simon Hayes had lobbied the government to allow a name change, claiming it was "an anomaly" not to have the island in the force's title.
Michael Lane, who was elected as the new PCC in May, said it was "not a priority".
Mr Hayes insisted it would have created a "sense of unity".
"I'd be very disappointed if this chance was not taken up, it would be a missed opportunity and send the wrong message to residents living on the Isle of Wight," he added.
The new Policing and Crime Act gives the Home Secretary the ability to change the name of a police force, although any change would be scrutinised for value for money and local support.
In a statement, Mr Lane said: "My priority is to represent everyone and focus on keeping residents of Hampshire, the Isle of Wight, Portsmouth, and Southampton safer.
"Changing the name of Hampshire Constabulary is therefore not a priority for me to consider at this time."
'Equal status'
The Police Federation also said a name change was "not at the top of the list of our priorities" when it was mooted during Mr Hayes's tenure.
Isle of Wight Conservative councillor Dave Stewart, who sits on the Police and Crime Panel, said it would have been a "step forward".
"A change of name would be a symbolic acknowledgement, sending a clear message to the Island community that we have an equal status as a county in terms the provision of our police service."
In 1957, the force's name changed to Hampshire and Isle of Wight Constabulary but, in 1967, when it amalgamated with the city forces of Southampton and Portsmouth, it became Hampshire Constabulary.