Onlookers lift bus off trapped man in Winchester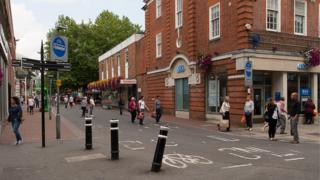 Onlookers worked together to lift a bus which was on top of a man in a city centre.
Police said about 30 people raised the single-decker vehicle in Winchester on Monday.
The park and ride bus hit the pedestrian near the corner of Silver Hill and Middle Brook Street at about 16:50 GMT.
The local man, aged in his late forties, is being treated in hospital for life-threatening injuries
The bus operator, Stagecoach South, said it was investigating the circumstances of the collision.