'Street predator' jailed for sex abuse in Southampton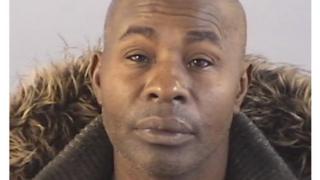 A "predator" who picked up underage girls in the street for sex and infected them with sexually-transmitted diseases has been jailed for 12 years.
A court heard Antonio Agard, 54, targeted young girls in Southampton, giving them gifts and money, and lying about his age.
He pleaded guilty to two counts of sexual activity with victims aged 14 or 15 at the time of the offences.
The judge said Agard "brainwashed" the girls to feed his sexual desires.
'Playing with dolls'
Southampton Crown Court heard Agard, of James Street, was already on the sex offenders register when he met his first victim in 2002 or 2003.
The court heard he approached her in a BMW car as she was walking in the street.
The pair had a relationship lasting two or three years, during which time the girl contracted gonorrhoea from him.
In a victim impact statement, she said she was now estranged from her family because of the relationship and had been diagnosed as suffering from depression.
The second girl was befriended in 2006 and "repeatedly infected" with chlamydia, the court heard.
Her statement said she had been "playing with dolls" only a month before meeting Agard, and felt he had "taken her childhood away".
The court was told Agard had three previous convictions for having sex with underage girls and one conviction for indecent assault on a child.
Judge Gary Burrell QC told him: "What you did was absolutely dreadful. You operated as a street predator looking for young girls.
"You used both girls for sexual pleasure: controlled, manipulated and in effect brainwashed them to be compliant with your sexual desires."
He imposed consecutive six-year jail terms for each count, together with a sexual harm prevention order to last indefinitely.