Visitor boost for Hyde Abbey Alfred the Great site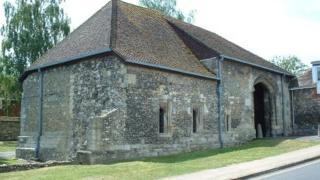 A ruined Hampshire abbey which was the burial place of Alfred the Great has been awarded lottery funding to develop visitor facilities on the site.
Hyde Abbey in Winchester was featured in a 2014 BBC documentary about the search for Alfred's remains.
The Hyde900 charity said the subsequent rise in visitor numbers meant more information for visitors was needed.
The £33,600 lottery grant will go towards staging events and developing augmented reality visitor guides.
King Alfred was England's first king - he unified the country against the Vikings and revolutionised the country's legal system and military structure.
Abbey dissolved
Following his death in 899AD he was buried in the old minster of his capital of Winchester. His remains were moved in 904 to a new church to be alongside his wife and children, before being moved again to Hyde Abbey in 1110.
Hyde Abbey was the dissolved on the orders of Henry VIII and demolished in the late 1530s.
It was featured in a BBC documentary The Search for Alfred the Great.
Steve Marper, chairman of Hyde900, said: "The increase in visitor numbers persuaded us that there needed to be more extensive explanatory material about both the abbey and the story of Alfred the Great whose remains were interred there in 1110."
Students at the University of Winchester will help create the digital resources including a new website and develop augmented reality guided tours of the Abbey with Abbot Aston, the Abbey's most distinguished medieval figure.