Work to start at ex-Transit van factory in Southampton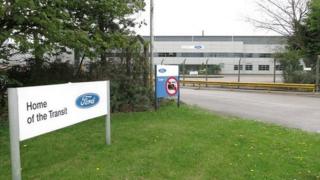 The site of Ford's former Transit van factory will be ready for occupation by new businesses by September, a developer has said.
The plant at Swaythling, Southampton, closed in July 2013 with production moving to Turkey.
Property firm Mountpark, which bought the site in 2015, said redevelopment work would start in January.
It announced Jaguar Land Rover would build a showroom and workshop "involving 140 jobs".
The firm, which is the first named occupant of the site, will relocate its main dealership from central Southampton.
Mountpark director Phillip O'Callaghan said he expected the whole development to create up to 1,000 jobs.
He said the firm was in "quite advanced discussions with a logistics company".
Some 500 jobs were lost and 41 years of Transit van production in Southampton ended when Ford moved production to Turkey, where it said costs were "significantly lower".