Portsmouth baby murder accused 'saw son's light go out'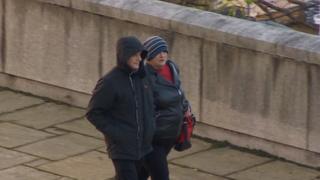 A mother accused of murdering her 19-day-old baby has told a court she saw the "light go out" in his eyes as he stopped breathing.
Nicola Brown, 43, denies murdering son Jake, who died after suffering a brain injury and a fractured skull on 19 December 2014.
She also denies two counts of causing grievous bodily harm.
Jason Brown, Jake's father, denies causing or allowing the death of a child.
The baby suffered a total of 17 broken ribs on two previous occasions, the jury heard.
'Clammy and sweaty'
Mrs Brown, of Agincourt Road, Portsmouth, was looking after Jake at home on 19 December 2014 while Mr Brown, 44, was at work, the court was told.
She described his as clammy, sweaty and half asleep, as she tried to give him his bottle.
"He made a noise and I saw the lights go out of my son's eyes and that's a picture I will never forget for the rest of my life," she added.
Mrs Brown said she took him to the doctor on 16 December for symptoms including constipation, wheezing and a runny nose.
When asked if Jake had suffered violence causing him to stop breathing, she said: "I can't comment on that because I didn't see anything. Personally I think I have been let down by the health services."
'Concealed pregnancy'
She said the doctor told her to "prioritise" her concerns, and she added: "If I had prioritised better something would have been found sooner and I have to live with that."
She told the jury she did not know how her son suffered 17 broken ribs which the court heard were caused by an adult squeezing him.
She also denied shaking Jake causing an earlier injury to his brain.
The jury heard Mrs Brown had not informed her doctor that she was pregnant with Jake, and social services were alerted to the "concealed pregnancy".
When asked by the prosecution if his arrival had been "inconvenient", she replied it "led to the perfect family".
The court also heard Mrs Brown, who was known as Nicola Long when she was charged, suffered from anxiety disorders.
Previously, the jury was played a 999 call in which Mrs Brown said Jake had stopped breathing while she was feeding him.
She also said he had fallen out of his Moses basket the previous day but prosecutors said the boy's injuries were not consistent with such a fall.
The trial continues.