Facebook driver jailed over fatal crash in Southampton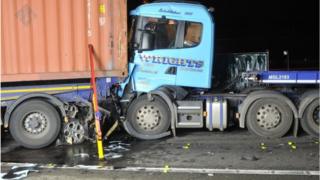 A lorry driver who killed two men when he crashed while using Facebook on his mobile phone has been jailed for six years.
A court heard Keith Mees, of Swadlincote, Derbyshire, was messaging his girlfriend four seconds before crashing on the M271 in Southampton.
Marian Olteanu, 35, and Ion Calin, 42, were killed when their car was crushed between two lorries in December 2015.
Mees, 49, pleaded guilty to two counts of causing death by dangerous driving.
He also admitted causing serious injury to another lorry driver by dangerous driving.
Southampton Crown Court heard the victims, both originally from Romania but living in Southampton, died at the scene when their Ford Mondeo was crushed between Mees' lorry and another HGV at the back of a line of traffic.
Earlier in the journey, Mees had made phone calls at the wheel to end a relationship with his current girlfriend and return to his previous long-term partner.
Judge Nicholas Rowland said: "You were going through some kind of turmoil in your private life which you were sorting out while you were on the road.
"The sole cause of this collision was your decision to use your mobile phone to access Facebook."
The judge also banned Mees from driving for seven years.
'Excruciating pain'
Jason Taylor, defending, said Mees, of Pringle Farm Road, was "truly remorseful" and "struggling to come to terms" with his actions.
In a statement, Mr Calin's wife Veronica recalled the "excruciating pain" of telling her two sons that that their father had died.
She said: "All I can hope for now is that his death serves as some kind of lesson to those who still persist in using mobile phones at the wheel. You are a terrible accident waiting to happen."