Memorial garden to babies unveiled in Southampton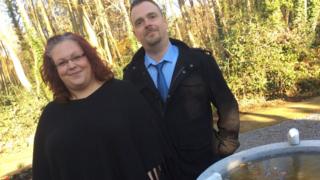 A memorial garden for families who have lost a baby has been unveiled in Southampton.
The idea for the garden at the city's crematorium was proposed by Cheryl and Stuart Keal who lost one of their twins Daisy in pregnancy.
Mrs Keal said: "I'm hoping it gives people comfort."
Its centrepiece is a large bird bath surrounded by benches with a memory tree for families to decorate with messages.
Mrs Keal said she was "overwhelmed" by the garden which took two and a half years to create.
The £8,000 Daisy garden was funded through families, the crematorium and charity Southampton Sands (Stillbirth and Neo-Natal Death).
The city's Junior Neighbourhood Wardens planted flowerbeds and shrubbery in the garden.