Southampton Cenotaph poppy wreaths 'thrown by man'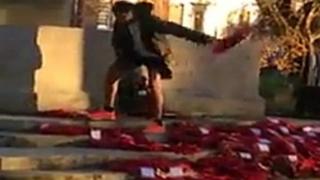 A man has been arrested after a number of poppy wreaths were apparently thrown from the Cenotaph in Southampton.
The incident in Watts Park was reported to police by passers-by who filmed a man removing the wreaths from the steps of the war memorial.
The footage shows a man kicking the floral tributes before then throwing them at about 15:30 GMT on Friday.
Police said a 29-year-old man from the city was arrested earlier on suspicion of criminal damage.