New Forest visitor information centre: Council votes for closure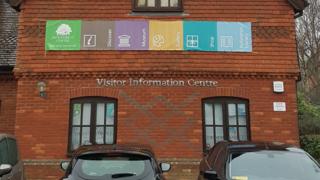 The New Forest will become England's only national park without a dedicated walk-in visitor centre after the council voted to end the service.
The visitor information centre (VIC) in Lyndhurst provides tourist information and accommodation bookings.
A council review recommended its closure, citing visitors increasingly using online services to plan stays.
The National Park Authority said it was involved in discussions over the VIC's future.
New Forest District Council's review of tourism services recommended ending its tourism marketing role and closing the visitor information centre as use had fallen by 50%.
Five posts will be made redundant.
'Doesn't make sense'
The plans were approved by the cabinet and went before the council on Monday evening.
A petition opposing the closure received more than 900 signatures.
Lib Dem opposition councillor David Harrison said: "The district council needs to work with the National Park Authority now so that we can rescue some sort of service.
"I don't think technology alone will replace what's there at the moment."
"The 130,000 people who use the visitor centre obviously think there should be a presence. I understand the need to save money but this just doesn't make sense."
Research carried out by the BBC found England's nine other national parks had at least one visitor information centre, fully funded by each park authority and staffed by full-time employees.
The centre shares a building with a museum, gallery, gift shop and reference library managed by the Ninth Centenary Trust - all of which will remain open.