Botley pair 'lucky to be alive' after van crashed into home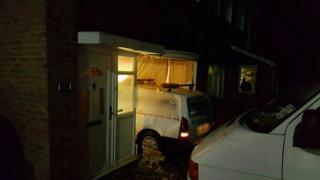 A couple said they are "lucky to be alive" after a van crashed into their living room.
David and Janet Roles, both 63, were sitting watching the news on Tuesday when the vehicle smashed through the front wall of their Botley home.
Both escaped with minor injuries but the couple from Sovereign Drive were shocked when the driver then ran away.
Mrs Roles said they were both still shaking.
'Missed by an inch'
The couple had just finished watching television in the front room when they heard an "almighty bang" as the car ploughed through the wall.
Flying debris hit Mr Roles causing an ankle injury.
The incident has caused major structural damage to the front of the house and Hampshire Police said "extensive" enquiries are being made to find the driver.
Mrs Roles said: "We just can't believe it, we're still shaking from it. The car missed me by an inch and then the driver ran off without taking a second glance. We are both lucky to be alive, it was terrifying".