'No investigation' for Southampton train derailment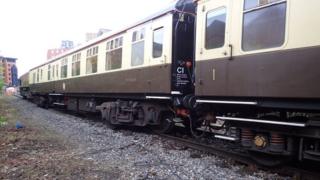 Rail accident investigators will not be conducting a full investigation into the derailment of a train in Southampton earlier this month.
The charter train from London to Fawley Esso came off the tracks at Southampton Eastern Docks on Saturday 5 November.
The special 08:00 GMT service had been due to be the first direct service from Waterloo. No-one was injured.
The Rail Accident Investigation Branch (RAIB) said it would produce a "safety digest" instead of a full report.
The organisation said it did not always investigate less serious rail incidents if the circumstances were covered by a previous investigation or existing rules.
A statement said: "We have undertaken a preliminary examination into the circumstances surrounding this accident. Having assessed the evidence which has been gathered to date, we have decided to publish a safety digest."
According to Network Rail, the first coach and the leading axle of the second came off the single line tracks between Chapel Road and Canute Road level crossing at 10:53.
The company said there were no injuries and passengers were transferred to unaffected coaches which departed for Eastleigh at 14:10.