Portsmouth's storm-hit swimming pool forced to shut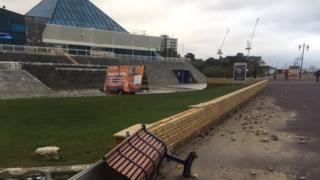 A swimming pool at a seafront leisure centre has been closed to the public after suffering flood damage.
The Pyramids Centre in Southsea flooded during heavy rain and gale-force winds in the early hours of Sunday.
BH Live, which runs the centre, said "We are assessing the full extent of the damage and have taken the precaution of closing the centre at this time."
Clarence Esplanade near the leisure centre is also closed.
Follow live coverage of floods in the region, plus other news from Hampshire
The storms, which brought heavy rain and gusts of more than 80 mph, caused large amounts of shingle to wash up on the road.
Portsmouth City Council said clean-up work was under way, but it did not yet know when the road would reopen.
The severe weather also caused structural damage to part of the promenade near the leisure centre which is closed from Rocksbys Restaurant.
Hundreds of starfish were also washed up along on the beach during the high tide.
Council leader Donna Jones said: "I was staggered they are everywhere, the high tide washed them up onto the beach - unfortunately I think they've died."